SCORPION EXO
For almost ten years the Scorpion EXO™ brand has been dedicated to offering high quality, innovative motorcycle helmets and apparel at an incredible value.
Some of the world's best helmet and apparel designers spend countless hours developing and testing Scorpion EXO™ PRODUCTSs to ensure that each and every
Scorpion EXO™ Helmet and Garment will surpass user expectations.

Pulling R&D from some of the top riders in the world, from MotoGP all the way to the Dakar Rally, Scorpion EXO™ is committed to listening to the rider's
needs. Scorpion EXO™ is dedicated to providing premium quality safety products you can rely on. At Scorpion EXO™ our brand is more than just a logo,
it's a way of life.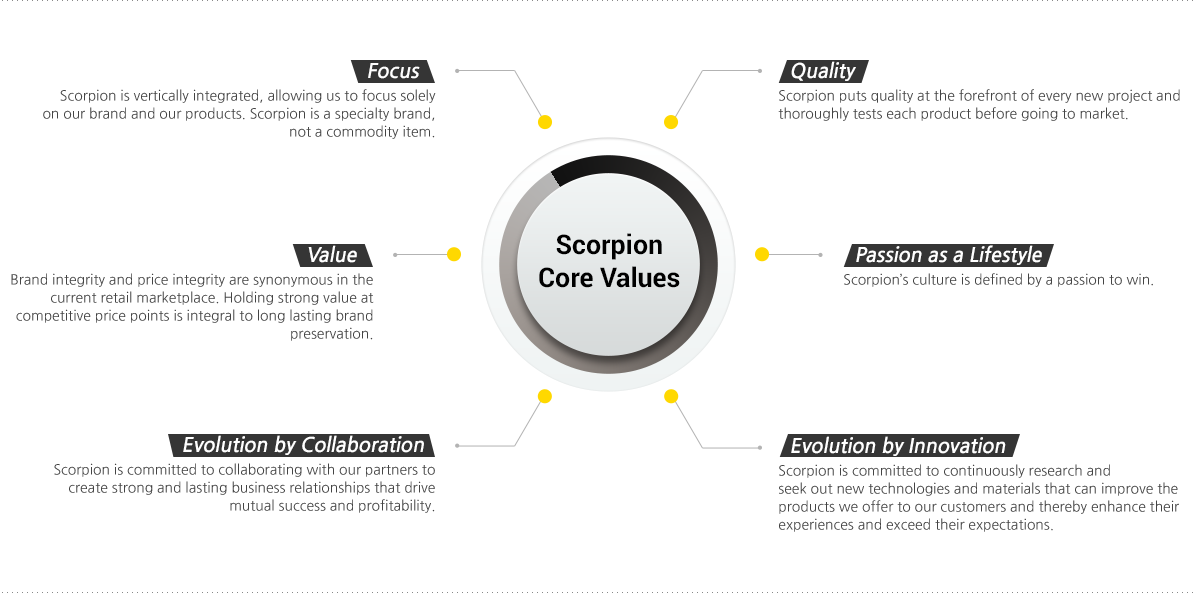 Scorpion Core Values
Focus

Scorpion is vertically integrated, allowing us to focus solely
on our brand and our products. Scorpion is a specialty brand,
not a commodity item.

Quality

Scorpion puts quality at the forefront of every new project and
thoroughly tests each product before going to market.

Value

Brand integrity and price integrity are synonymous in the current retail marketplace. Holding strong value at competitive price points is integral to long lasting brand preservation.

Passion as a Lifestyle

Scorpion's culture is defined by a passion to win.

Evolution by Innovation Collaboration

Scorpion is committed to collaborating with our partners to create strong and lasting business relationships that drive mutual success and profitability.

Evolution by Innovation

corpion is committed to continuously research and seek out new technologies and materials that can improve the products we offer to our customers and thereby enhance their experiences and exceed their expectations.